I was inspired by the idea that a self-portrait could be something other than an image of someone's face. I was trying to think of what could be a more basic sense of self than our biology or just a simple cell. Cells are the fundamental basis of being alive so it would be the very essence of a self-portrait. I originally thought about doing a osteocyte or bone cell because it's a structural component that "builds and holds together" a person. I ended up choosing to do a neuron because (obviously there are neurons outside of the brain as well) the majority of the brain is composed of neurons and that's where personality and decision-making is centered (aside from hormones etc) and that's probably more of where someone gets their identity than their structural build.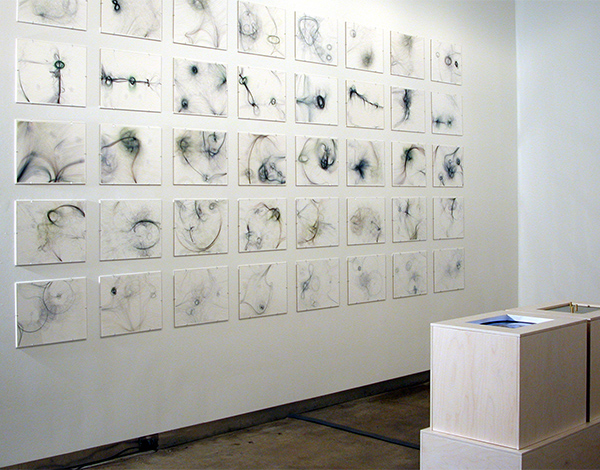 These images came from Casey Reas's project called Tissue prints. I really like the idea of bringing in a background of science into art and this is where I got the idea to try to do a cell as a self-portrait. I was very inspired by the idea of being able to make something that's just "boring" biology look aesthetically pleasing but still maintaining some of the integrity of what a cell actually looks like. These images that Reas created reminded me of the extracellular matrix so I tried to think more about what a cell would be because the cell is where all the DNA to encode all proteins and structures outside the cell would be a more fundamental sense of "self".
Image 1 (left)
Image 2 (right)
Image 3 (bottom)
Unfortunately I don't have a lot of my own neuron slides that end up looking very "beautiful" because it is hard to slice a piece of tissue and end up with a cut that goes through the cell in an angle that is good for viewing all the different aspects of a cell so I looked on the internet for examples of better cuts that still have the axons and dendrites (the long arms sticking out of the cell body). I used these two images (Image 1 and Image 2) to trace the cell membrane. In these images it didn't have the stringy effect that most neurons have so I found a second to base the dendrites on but kept the coloring from the first two (Image 3).
Then I came up with the first image of my cell (posted at the top of this post) and moved forward into Processing. Originally I was having issues with the image being repeated but too small so I changed the code to come up with the processing image above. I didn't like the white space so I repeated running all the randomization through and ended up with the image below.